Master Producer and Mix Engineer for the Greatest Music Acts of Our Time…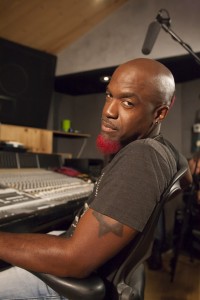 While the average music fan probably doesn't know his name, they are most certainly impacted by the work of Neal H Pogue, who has put his own unique touch and polish on numerous songs and albums for artists such as Common, Pink, Nelly Furtado, Stevie Wonder, TLC, Lil Wayne, Janelle Monae, and Outkast's SpeakerBoxx/The Love Below album, for which he won a 2004 Grammy Award. But long before he was an integral part of the success of Outkast's smash hit "Hey Ya!," he was a musician just trying to make his way in the logjam of artists and entertainers known as Los Angeles.
Neal Pogue began his career in Los Angeles in the 80's as an aspiring musician. One day while looking for opportunities to join touring acts as a drummer, Pogue noticed an advertisement in the newspaper for Sound Master Recording, a local school for audio engineering. At that time, Pogue didn't consider engineering as a possible career option, but thought that if he learned the craft on the other side of the recording studio glass, he could record his own demos.
While going through his technical education, he bought his first four-track recorder, followed by a keyboard and a bass guitar. He tinkered with these instruments and laid down demos for himself, slowly realizing that engineering was something he could not only do, but do very well.
Once he graduated from Sound Master Recording his career took off. Pogue caught the attention of Michael Jackson's brother, Randy, who owned a studio in the area. The King of Pop's sibling took a liking to Pogue and brought him in, making him the second engineer for the new album by Jackson's band, Randy and the Gypsys.
While observing Randy and the Gypsys' mixing session at Larrabee West in West Hollywood, Pogue was offered a position by Larrabee's owner Kevin Mills. By 1990, Mills persuaded Pogue that he was ready to leave Larrabee and begin working on his own. As Pogue mixed and tracked for more and more producers, he naturally developed more contacts, eventually catching on with Bobby Brown and Organised Noise. He followed Brown to Atlanta to work at Soundscape Studios, which Brown later purchased and called Bosstown (it later became Stankonia after Outkast purchased the studio in the midlate 1990's). While working in Atlanta, Pogue's career really started to take off as he launched his own production company, Fulton Yard Unlimited, with partner Walter McKennie, and met and worked with Toni Braxton, Goodie Mob, members of R&B sensation TLC, and future hip-hop legends Outkast.
In 1993, he began work on Outkast's initial effort Southernplayalisticadillacmusik. Shortly after the album's release in 1994, Pogue was tracking and mixing on TLC's popular 1995 album Crazy Sexy Cool, which featured the mega-hit "Waterfalls" (Pogue even got his hands into the production of the album when he produced the horns on "Waterfalls" under the pseudonym Shock). This was followed by what many consider to be Outkast's best album, Aquemini, with Pogue mixing 95% of it.
In 2002 and Andre 3000 was starting to come to Pogue with new tracks for Outkast's upcoming, soon-to-be Grammy Award-winning, album SpeakerBoxx/The Love Below. Andre played the demo version of "Hey Ya!" that he had been working on and Pogue instantly identified that as the track that would shine on the album. Pogue worked diligently with Andre on "Hey Ya!" as well as six other tracks, including "She Lives in My Lap," "She's Alive," "Prototype," "Take Off Your Cool" (featuring Grammy Award-winner Norah Jones), "Spread" and "Vibrate." The result was a Grammy Award-winning album and a Grammy for Pogue.
In 2012 Pogue was chosen as both the Chief Mix Engineer and A&R for the latest album project, Now, Then & Forever by legendary R&B band, Earth, Wind & Fire. The project lead to Pogue providing additional production on three tracks while fully producing another three records; two of which ("Guiding Lights" and "My Promise") were chosen as the lead singles for the album. Now, Then & Forever debuted at #11 on Billboard's Hot 200 – the first Earth, Wind & Fire project to debut in the top 20 on that chart in 25 years.
Pogue continues to set new music trends with artists such as HicksBoi4Real, Jimmy Wit An H, Ryn Nicole, and Ebo the Coolest who will all be dropping new releases on Pogue's own imprint, Fulton Yard Unlimited.
Most recently, Pogue has mixed Tyler, The Creator's Flower Boy and produced and mixed Uncommon Good by Busty and the Bass. He's currently mixing the debut album from Doja Cat for RCA and Duckwrth's second mixtape for Republic called Xtra Uugly, and is in the studio producing The Crystal Method.
Grammy Nominations
Common UNIVERSAL MIND CONTROL Best Rap Album
Aloe Black LIFT YOUR SPIRITS Best R&B Album
Outkast HEY YA! – Record of the Year (Won in 2004)
Outkast STANKONIA – Album of the year
Tony Rich Project – Best Pop Album
Antonique Smith HOLD UP WAIT A MINUTE (WOO WOO) Best Traditional R&B Performance
TLC WATERFALLS Best Pop Performance By A Duo or Group With Vocal / Best R&B Album